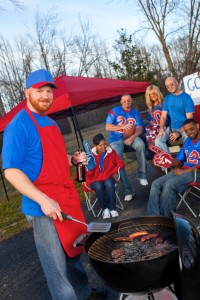 Summer is winding down as kids across the nation head back to school and summer vacations come to an end.  This also means football season is here – time to fill out those draft picks and start planning tailgate parties!
Tailgating is an American tradition that offers a great mix of fanatical sports fans, savory foods and ice cold beer.  Every college has their own tailgating traditions and here are a few that stand out.
Old Miss' hosts their tailgates on The Grove while keeping things classy and sophisticated as students and alums wear their Sunday best.  Tennessee fans tailgate on boats off the "Vol Navy" docs on the Tennessee River to sing Rocky Top.  LSU Tiger fans are known for putting extra effort into pregame tailgating grub, offering up dishes like jambalaya, fogs legs, alligator and crawfish.  Harvard hosts a wine and cheese soiree the night before their big game against college rival, Yale.
What are your favorite tailgating traditions?
Look here for a chance to win the ultimate Tailgate Kit!
For information on effective ways to manage institutional and individual portfolios nationwide, or to shop for real estate visit First Preston HT. Like us on Facebook. Follow us on Twitter.