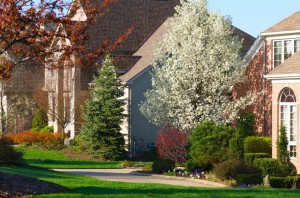 Just when you thought home prices couldn't go any higher they are still pushing limits.  The S&P/Case-Shiller composite index recorded a 0.9% rise in March on a seasonally adjusted basis.  Economists had expected the index to report a 0.7% increase.
Although the index reported a year-over-year home price increase of 12.4% (well above Wall Street's appraisal) this was down slightly from February's year-over-year data of 12.9%.  As mortgage rates drop again, the housing market could see more growth and higher prices still.
March's slight drop in year-over-year data reveals that home prices could be moderating.  Markets like Las Vegas, San Francisco, and Los Angeles have reported significant slowdowns.  Chairman of the index committee at S&P, David Blitzer, said, "Annual price increases for the two composites have slowed in the last four months and 13 cities saw annual price changes moderate in March.  The National Index also showed decelerating gains in the last quarter."  It will be interesting to see over the next few months how much higher prices can go and even if they will or not.
For information on effective ways to manage institutional and individual portfolios nationwide, or to shop for real estate visit First Preston HT. Like us on Facebook. Follow us on Twitter.