The current housing market's supply of homes continues to be tight with the majority of homes available for sale being higher-end properties.  This leaves those who would be first-time homebuyers with fewer choices.  But the nation's largest home builder (by market value), DR Horton, is shifting its attention from high-end homes to building entry-level residences.
The company's new line of homes, Express Homes, will start at $120,000-$150,000 and will be be rolled out in Texas, Georgia and Florida.  Executives of the company see a strong demand for this market segment that is lacking in supply.  D.R. Horton CEO Donald Tomnitz said, "We wouldn't be getting into Express Homes if we didn't think it was the next segment of the market to recover… As we move into this recovery we'll see some encouragement from the government in terms of trying to get more people into entry-level homes." Pictured above is an Express Home in Dallas, TX and below is another located in Houston, TX.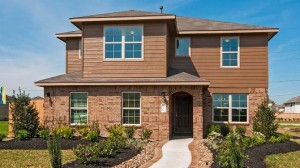 Outside analysts also see this shift in the market place.  Stephen East from research firm ISI Group commented, "We view it as the right move. Horton's cost structure and operational experience at the entry level makes them one of the few builders that can do this profitably. Also, we are firmly convinced the first-time-buyer segment is getting access to more credit, which will lead to more demand for this low-entry level product."
For information on effective ways to manage institutional and individual portfolios nationwide, or to shop for real estate visit First Preston HT. Like us on Facebook. Follow us on Twitter.