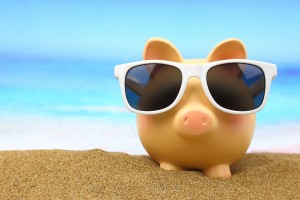 It's about that time of year when we start dreaming about escaping the confines of a cubicle or classroom for a much needed summer vacation.  If you are like me or some of our First Preston HT team members, you've been daydreaming about it since the cold winter months.  Whether you plan to travel with your family, friends, or go it solo, a great summer vacation can leave you with great memories that last a lifetime.  However, it can also put a dent in your wallet quickly if you haven't saved up in advance.
Summer vacations are meant to leave us feeling rested, relaxed and refreshed.  No one wants to come home from a nice trip and then stress about the money that was just spent.   Whether you are planning a low budget weekend getaway or a luxurious week-long retreat who doesn't like to save money or get a great deal?  Here are a few tips to help your dollar stretch farther this summer.
Travel during Off-Peak Times – Airfare during peak summer months and summer holidays can increase by more than 50%. Book your travel plans for before June 20 which marks the official start to summer.  Airlines, hotels, and cruises tend to raise their prices during this time.  Check out mobile apps like Kayak or OnTheFly (an ITA Software by Google) to help locate the best price fairs and set price watch alerts.  If you do have to travel during the peak season, book flights for arrival and departure during the week which tend to cost less than flights during the weekend.  Tuesdays still tend to be the best day to purchase airfare too!
Forego the Hotel Room – In recent years, travelers have shifted away from staying at hotels and have taken to a new trend – vacation rentals.  While this might sound more expensive it can actually save quite a bit of money, especially if you are traveling with friends or extended family.  Additionally, renting a house or condo usually provides access to a full kitchen giving the option to cook some of your meals instead of eating out at expensive restaurants. Check out airbnb.com for rentals across 190 countries.  You might even consider listing your home on a vacation rental site like this to earn extra cash while away on vacation.
Set and Stick to a Budget – It can be hard to do if caught up in the moment while on vacation but it's important to stick to a planned budget to keep from experiencing potential buyer's remorse later.  There are mobile apps that can help, including SmartyPig and Mint.com.  Start setting aside travel funds early.
The More, the Merrier – Invite more friends or family to join the trip and split the cost among everyone.  This can save lots of money on the hotel or vacation rental and also makes for more fun!  This has always been one of my favorite money saving travel tips, go with friends no matter what the time of year.
Pre-plan Meals – Dinning out on vacation can be one of the largest expenses incurred once arriving to your destination.  If your accommodations allow for it, cook a few meals instead of eating out.  Locate the nearest local farmers market or grocery store before arriving and plan to make a visit once you get settled.  It is also a big money saver to buy wine or other adult beverages at the store instead of paying premium mark ups while out and about.
Check your Rewards – Most travelers have a frequent flyer mile programs, hotel points and credit card rewards.  Before deciding on your summer vacation destination, review all your reward programs to identify any special deals that would allow you to cash in points.  If you are not a member of any rewards program, now is a great time to start.  Next time you stay at a hotel or fly, ask a representative for information about joining their loyalty program and sign up.  Preferred customers sometimes receive special perks.
Whether you have planned a summer vacation far away from home or have decided to enjoy a staycation, First Preston HT hopes you enjoy your time relaxing and enjoying quality time with your loved ones.  For information on effective ways to manage institutional and individual portfolios nationwide, or to shop for real estate visit First Preston HT. Like us on Facebook. Follow us on Twitter.