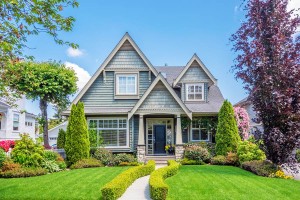 First Preston HT knows that deciding to put your house on the market can be a daunting task.  There is a lot that usually needs to be done before potential buyers come for a tour.  It's a great time to be a seller in this housing market.  If you are selling, that means you're most likely buying too and don't want to over spend on getting your property looking its best for listing.  Making some smaller updates to your home can help you bring a higher selling price without making a large dent on your wallet.  So how can you squeeze the most value out of your home?  Here are a few tips from First Preston HT.
Create more space by knocking out a non-load bearing wall. Buyers want wide open floor plans that make the house feel more spacious.    This will cost you around $2,500 but can really make a big impact on the selling price.  If you just moved into a home with a closed off floor plan, it might be a good idea to go ahead and do this so you can enjoy the benefits a more open floor plan before selling it years later.  If it's a load bearing wall that will have to be knocked out, this will cost you more around the $10,000 range.
Prune, trim back limbs and landscape your home to make it look more appealing. Landscaping is one of the top three investments that can bring the biggest return when looking to sell your house.  Spending around $400-500 on this can reap returns of four times your investment.  Consider the type of climate you live in and choose plants, trees, bushes, and flowers that will thrive without requiring a lot of extra maintenance.
Don't put off maintenance or repairs that your home is in need of.  This can greatly affect the value of your property when inspectors are evaluating it's condition.  Make sure water drips are repaired, fix leaky windows, and replace rusty rain gutters.  Keep up with this type maintenance on a yearly basis so these repairs don't build up and turn into bigger issues down the road.
Update the floors. Hardwoods have been popular over the past several years as people are tearing up old carpets.  This update doesn't have to cost a lot of money either.  Spending an extra $600-$900 on updated floors and can increases your home value by $2,000.  Hardwood surfaces are easier to keep clean and don't trap dirt or stain like most carpet can.  Other types of hard surfaces that homeowners are installing include concrete, tile, bamboo and laminate.
Update those bathrooms. This also can be done inexpensively by updating the sink and shower hardware.  Try using metal fixtures as mentioned in last week's blog post for a trendy vibe.  Deep clean the shower, apply fresh caulk where needed and get rid of the frosted glass shower door with clear glass for a more updated look.
Repaint and touch-up walls. While a lot of homebuyers will change the paint colors after they purchase a home to fit their color scheme, walls with chips or marks from wear and tear leave your home looking unkempt.  Fix paint chips or scratches with left over stored paint.  If you have any walls painted a bold color like red, blue or yellow, repaint these to a neutral tone.  Bold colors can have a negative impact on potential homebuyers that might not share the same taste in décor.
As home buying and selling season is around the corner, First Preston HT hopes you find these tips helpful if you are planning to sell your house soon.  For information on effective ways to manage institutional and individual portfolios nationwide, or to shop for real estate visit First Preston HT. Like us on Facebook. Follow us on Twitter.