It is the start of a new year which comes with  new predictions of what the housing market will experience over the course of the next 12 months.  A look back at the housing market in 2013 showed a road to recovery, albeit slow.  Forecasts for 2014 don't seem to be overly optimistic so far. Pressure from higher interest rates, more rigorous credit qualification standards, and tight housing supply make the 2014 outlook a more challenging one.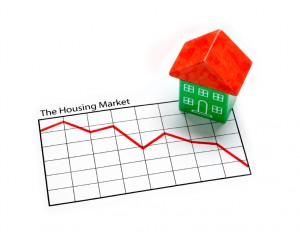 Weak residential mortgage origination results  for  the fourth quarter were recorded  by Wells Fargo and JP Morgan Chase. Therefore analysts expectations for 2014 are being revised downward.  The Mortgage Bankers Association (MBA) lowered its mortgage origination projections for 2014 by $57 billion to $1.12 trillion.  Mike Fratantoni, chief economist for MBA, commented, "Despite an economic outlook of steady growth and a recovering job market, mortgage applications have been decreasing—likely due to a combination of rising rates and regulatory implementation, specifically the new Qualified Mortgage Rule." A large portion of the reduction is refinance applications which are now estimated to decrease 60 percent this year from last year.
Mortgage rates are expected to rise above 5 percent this year which could put further pressure on the housing market.  The MBA has lowered its 2014 projections relating to purchase originations to $677 billion down from $711 billion that was previously forecast.  All-cash purchases still make up 32 percent of the housing market according to November readings from the National Association of Realtors (NAR).  This number is up from October.
Home builder confidence fell in January following a steep rise in December.  "Rising home prices, historically low mortgage rates and significant pent-up demand will drive a continuing, gradual recovery in the year ahead.  However, the pace of the recovery could be stronger were it not for rising construction costs and inaccurate appraisals that are keeping some home sales from going through," said NAHB Chief Economist David Crowe.
There is some good news surrounding the housing market according to Patrick Newport of IHS Global, "Builders are facing the headwind of rising construction costs, but buyer traffic has held up well despite rising mortgage rates. After hitting a plateau in the middle of 2013, the market for new homes is poised for a stronger 2014." It will be interesting to see how the housing market adjusts throughout the year and whether or not it ends up stronger than 2013.
For information on effective ways to manage institutional and individual portfolios nationwide, or to shop for real estate visit First Preston HT. Like us on Facebook. Follow us on Twitter.