We are all guilty of trying to attain perfection instead of progress when it comes to achieving our goals and then tend to beat ourselves up when we slip.  If your resolution of eating clean (consuming a largely plant based diet with few organic meats and fish and avoiding gluten, sugar, dairy, and processed foods) has taken a U-turn, here are a few recipes to get you back on track to feeling healthy and energized!
This green smoothie from one of my favorite clinical nutritionists, Kimberly Snyder, will not only leave you feeling satisfied and energized but it also aids in weight loss, fights ageing, and helps you have clearer skin.  It's clean drinking packed with fiber, vitamins, enzymes our body needs, and is very hydrating.  I also love this protein-packed smoothie from Sakara.
Lunch can get boring very fast as we reach for the same thing over and over again out of habit.  Switch things up with this Vegetarian Taco Salad that is a huge crowd pleaser and has lots of bright, bold flavors (I omit the cheese to keep it clean and use Kale for the greens).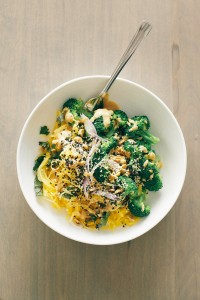 After a hard day at work, dinner can seem like a free-for-all.  We justify indulgent (poor) food choices because our day was long or overly tiresome.  A lot of dishes can be prepared ahead of time on the weekend making it is easier to eat clean, healthy foods.  Try this Spaghetti Squash Noodle Bowl which is hearty and perfect on a cold night.  Spaghetti Squash is a great substitute for pasta noodles.
What are some of your favorite clean eating recipes?
For information on effective ways to manage institutional and individual portfolios nationwide, or to shop for real estate visit First Preston HT. Like us on Facebook. Follow us on Twitter.