The Federal Reserve's recent two-day policy meeting painted a picture of sluggish growth in the economy for the first quarter of the year, mostly attributed to colder than normal weather which hindered economic activity.  Federal Reserve Chair, Janet Yellen, commented on labor conditions being tougher in some ways now than in any other recession and stressed the Fed's "extraordinary commitment" to aid recovery in the form of massive bond-buying and super-low interest rates for some time to come.  The economic data has not been improving as quickly as many would have hoped for but there have been some positive reports that still point to a rebound.  This should have a positive impact on the housing market.  It's time to put the first quarter behind us now and look for signs of growth during the second quarter in jobs, home supply, and home prices.
The U.S job's report released Friday helped paint a brighter picture for the coming months.  The economy added 192,000 new jobs during March and the unemployment rate held at 6.7 percent according the Bureau of Labor Statistics.  These numbers came in around consensus but still do not point to a robust rebound.  Kathy Bostjancic, director of macroeconomic analysis at The Conference Board, said, "Undoubtedly, there was some catch up in hiring following the inclement weather this winter.  Still, the underlying hiring trend is encouraging, with more good news expected this spring and summer."  As the employment picture brightens up, this will help strengthen the housing market as more people will look to purchase homes.
Housing supply has been on the rise since January, an important factor in getting the housing market to thaw out and eventually start booming.  The noted monthly supply in February was up slightly from January's five month supply, citing 5.2 months of supply.  Six months of supply is considered a healthy housing market.  As more homes are built to increase inventory numbers, analysts believe this will help spur growth in the housing market.  Homeowners looking to sell their property will have an easier time looking for a new residence, which should encourage sales and purchases.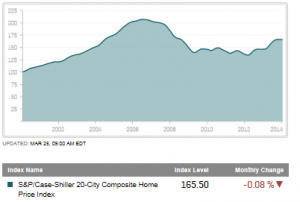 As discussed in previous blog posts, the continued increase in home prices have made this a seller's market, but have priced some potential buyers out of the market.  While prices have continued to grow, they are increasing at a decreasing rate (January noted a slight drop of 0.08% in the Case-Shiller 20 City Home Price Index). This points to a possible retreat in gains, reflecting a more normal range in prices over the next few months.  This will open the door to more market participants and will help get some momentum behind the housing market.
For information on effective ways to manage institutional and individual portfolios nationwide, or to shop for real estate visit First Preston HT. Like us on Facebook. Follow us on Twitter.