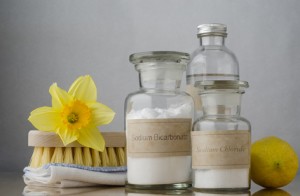 Going green is certainly not a new term, especially when it comes to cleaning products.  Green cleaning products are made without toxic chemicals and environmentally harmful ingredients, making them safe for humans and our furry friends.  The average household contains around 62 toxic chemicals according to environmental experts.  Many people are making the switch in their homes to these safer products but what's really lurking in your conventional household cleaners? Your First Preston HT team did the dirty work and we found what's hiding in conventional cleaners and offer some green cleaning options.
1. Ammonia –found in polishing agents, glass, and window cleaners.  It keeps surfaces free from streaks. Ammonia is a strong irritant that can lead to chronic bronchitis and asthma from frequent exposure.  Individuals already diagnosed with asthma or elderly people are at higher risk of symptoms.
Green Choice:  Use toothpaste for polishing silver and vodka for any metal or mirrored surfaces to create a nice shine.  Also check out natural cleaners at your local Whole Foods or other natural grocery store.
2. Phthalates – found in several household products with added fragrance (i.e. air fresheners and hand soaps) that increase their flexibility, transparency and longevity.  Look for these abbreviations: DBP, DEP, BzBP, and DMP.  This ingredient doesn't have to be listed by law so if you see the word "fragrance" on the label it's safe to assume this means that phthalates is present.
Phthalates are endocrine (hormone) disruptors which have been linked to low testosterone levels in men, interference with normal brain function, and could result in Autism, Breast Cancer, Testicular cancer and reduced sperm counts.
Green Choice:  Opt for fragrance free or products that use organic essential oils.
3. Triclosan – found in liquid dishwashing cleaners as well as antibacterial hand soaps is an aggressive antibacterial compound.  Scientific evidence has documented its adverse health effects, including endocrine function particularly to the thyroid, and skin irritation.  Some reports have even shown that these antibacterial products are no more effective than regular soaps.
Green Choice:  Avoid products labeled "antibacterial" and look for a hand sanitizer with natural ingredients that are alcohol-based.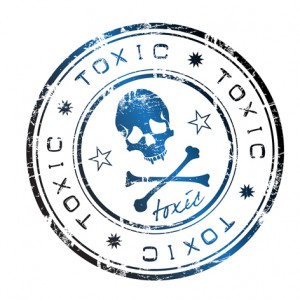 4. 2-Butoxyethanol – found in multi-purpose cleaners including window and kitchen cleaners.  This chemical gives products a sweet smell and is not required by law to be listed on the product's ingredient list.  Exposure to this can cause sore throats.  If you are cleaning in a confined area you can be exposed to levels that are higher than the workplace safety standards according to the EPA.  High exposure can contribute to narcosis, server liver and kidney damage, and pulmonary edema.
Green Choice:  Use diluted vinegar with newspaper to clean mirrors and windows or opt for making your own at DIY – home cleaner using baking soda, vinegar and essential oils.
5. Sodium Lauryl/Laureth Sulfate (SLS) – found in many soaps and detergents including shampoo, hand cream, toothpaste and cleaners.  This chemical helps to break down surface tension in water.   SLS has been known to cause skin inflammation and might mimic estrogens, cause hair loss, damage teeth and could lead to cancer.
Green Choice:  Opt for organic or natural cleaning products like Mrs. Meyer's or Method which is carried at most home retailers and grocery stores.
Making the switch to green cleaning products isn't just helpful to the environment; it's good for you, your children and your pets.  It's important to be an informed consumer.  While these green cleaning products can cost more they can be worth it in the end.  You can even make your own cleaning products from items you probably already have in your kitchen cabinets for budget friendly cleaning solutions.
First Preston HT hopes you found these tidbits useful to keeping your home a safe, clean, and happy place.  For information on effective ways to manage institutional and individual portfolios nationwide, or to shop for real estate visit First Preston HT. Like us on Facebook. Follow us on Twitter.