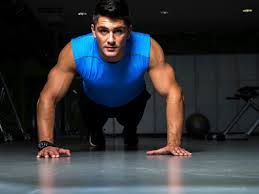 If you are interested in changing your workout regimen to stay motivated and engaged, there is no shortage of new classes or workouts that promise to keep you on your toes and make your heart pound.  Last year Cross Fit was the rage but here are some new fitness trends to check out:
Body Weight Training: This includes exercises that don't need gym equipment and therefore can be done anywhere.  Think lunges, squats, push-ups and burpees.
Barre Class:  This total body workout combines ballet, yoga, and Pilates and can be less intimidating than high intensity boot camps.  Barre studios are popping up all over the country like Pure Barre and and Barre3 (which also offer virtual classes online).
Spin Class:  Widely popular last year, it continues to still is hot.  This indoor cycling fitness class promises to torch calories and incorporate some light weights as well.  My favorite studio is Soul Cycle but check out Fly Wheel too.
HIITs: This stands for High Intensity Interval Training and is similar to a fitness boot camp or a P90x workout.  You go really hard for a set time on a specific exercise and then have a short recovery after which you repeat.  This will get your metabolic rate up and tone muscles.
Short Workouts: This is a broad term but similar to HIITs.  It focuses on getting the maximum calorie burn and toning by working out anywhere from 7 to 20 minutes at a time.  This is great for people with limited time to work out.
What's your favorite workout or class?
For information on effective ways to manage institutional and individual portfolios nationwide, or to shop for real estate visit First Preston HT. Like us on Facebook. Follow us on Twitter.