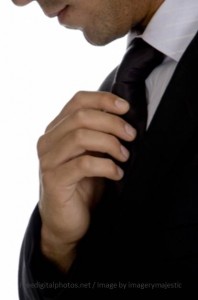 As a Realtor, what you choose to wear and how you present yourself to your clients will make an everlasting impression.  So with constantly changing fashion trends, how do you decide what to wear?
It's important to always look clean, neat and professional but where you work (i.e. large city, small town) can dictate your style.  Business attire is more appropriate in larger metropolitan cities while casual attire may be more appropriate for smaller towns.  One of my favorite rules – you can never be overdressed.
Women can wear a pant suit, or skirt with a shirt or sweater and a jacket.  Men can wear a suit and jacket with a tie or dress slacks with a button down shirt.  If you chose to wear an item that is more trendy/flashy, like colorful shoes, opt for the rest of your outfit to be more conservative.  This will create a balanced look that still allows your style and personality to show through.